When I started writing about autism online, I had the intent of helping families who were struggling to cope and hopefully making a little bit of money to help to pay for Cutie's therapy expenses. After reading about how hard it can be to earn any decent amount of money on Squidoo or Zazzle (you have to be REALLY talented and good at SEO) I set my goal a little lower financially, but I still want to educate people about autism and help families.
I hear that on Squidoo, most people who make significant amounts of money don't necessarily see their real results/ income start to pick up for about a year- and they usually say they make more in sales than royalties. My financial goal was to make $2 a month from Squidoo for my first year. I have been there since the end of January, and am now averaging $6 per month in royalties! I still have never made a sale on Squidoo (I do not count my husband purchasing through my lenses) but hope to really figure out how to do that soon.
The biggest surprise.... last night, I logged on to Zazzle to see if anyone had viewed any of my products (I really was not expecting any sales for a few more months) and I made 2 sales there yesterday!!!!! Here is one of my favorite products....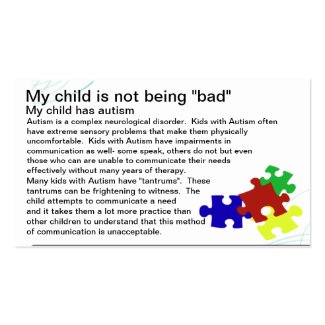 Autism Awareness card
by
Sidther
Browse other
Autism Business Cards
Of course I still want to teach the world about autism, but it looks like if I keep working on learning this internet stuff I might be able to figure out how to earn some money to put toward's Cutie's therapies!
I know I have kind of derailed here on my blog a bit- it was supposed to be about autism all the time but if I am able to do this... why not other Mom's with kids who have autism? I know I am certainly not the first to try, nor am I that successful- YET. But I think if I continue learning about the "magical internet" then maybe.... based upon the upward trend in my online earnings over the past few months, maybe maybe someday ....
Please vist my store to see my latest designs!