I have started writing lots of Halloween Articles some are regular Halloween articles (cool costumes for pets, costumes for kids, decorating, recipes, scaring people etc).
SOME of them are special Halloween Articles for families of little kids with autism. The first one I wrote I have been particularly proud of because I liked how it came out.
Tips for Trick or Treating With A Child Who Has Autism
I liked the article, but it got pretty much NO traffic and I was not really surprised- it is a very niche topic and most of the other writers there do not have a child with autism- I wasn't upset by it by any means, I hadn't expected much traffic because it is such a niche topic and I am just learning how to use keywords.
So today when I woke up I saw that it had been awarded the coveted "Lens of the Day"!!! I was shocked and delighted! About an hour later.... it had 180 visits, just today! Now as I am typing this it is up to 275 visits today! I can't believe it!
Anyway, the reason I am so excited is that I am pretty sure that it will help some families of kids with autism prepare their child for Halloween. Kids with autism usually take things so literally that seeing all of the creepy decorations and costumes can really be terrifying as the child has difficulty understanding that this is fun.
More and more parents of little kids with autism are finding themselves so overwhelmed with fears about the rude comments from strangers, their child's difficult behavior and concern over sensory needs that they wind up keeping the child away from anything that might trigger an issue. While this does prevent a meltdown, it not only deprives them of any type of fun but it prevents them from facing their challenges and growing beyond their current capabilities.
It can be terrifying, thinking of taking an extremely sensory or behavioral child trick or treating for the first time, but usually there is not as much to worry about as you had thought and careful preparation is good for both you and the child- you will have a better idea of what may or may not be difficult for them to cope with!
Hopefully, anyone who is giving out candy and sees a child having difficulty coping will remember the article and help by temporarily turning off strobes or animated monsters etc and help to make it a Happy and Fun night for everyone!
Social Stories and lots of practice being around costumes and props (trips to the store to explore these things in the daylight) can really help a child with autism cope and have FUN!
If you are having any doubts about trying this tradition with your child, why not practice a bit, get a special education teacher or therapist involved and see how you feel after some practice?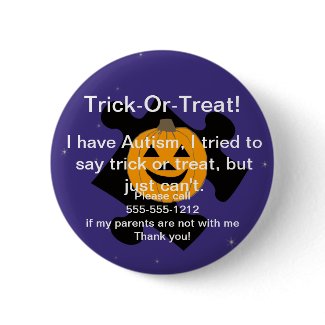 Trick or Treat Autism Button
by
Sidther
View other
Autism Buttons
I am trying to write a total of fifteen Halloween Articles because I do love it so much, so far I have 11!

My son and I had a great time making the Halloween cookies and hopefully we will have time to make a full sized Papier Mache Fluffy (the three Headed dog from Harry Potter) before Halloween although it might be a close call for this year- either way we can make it, write about it and store it for next year.
Animated Halloween Decorations
There are a few special animated Halloween decorations that can really create the best centerpiece for your haunted house or yard!
Batman Costumes for Boys
With so many Batman Dark Knight, DC Classic and Brave and the Bold costumes to choose from, it can be hard to find the perfect one for your boy at a reasonable price.
Cool Halloween Party Supplies
Make sure that your Halloween party is memorable and exciting! Learn what subtle and cheap (even free) details can really give your party that extra little something special.
How to Create a Scary Halloween Display
Get scary! Whether you use every decoration you can find or just want to use tricks to enhance the ones you have everything you need to know is here
Cool Halloween Pet Costumes
Don't forget Fluffy! Whether you have a cat or a 150 lb dog, there are lots of great pet halloween costumes to choose from!
Affordable Super Hero Costumes
Looking for a superhero costume like the Green Lantern, Captain America, Superman, Batman or Spiderman? Here are some great ones with great deals from Amazon!
Free Printable Halloween Coloring Pages
Coloring pages are good- free ones are better! Come check out some free printable coloring pages to get your little ghost or ghoul in the spirit!
Princess Halloween Costumes for Girls
Which Princess does your little girl want to be this year? Many, many choices of Princess costumes are available
Star Wars Halloween Costumes for the Whole Family
Star Wars fans, this Halloween costume (or, just for fun) page is for you! Vote on the best characters and share your Star Wars Knowledge!
Have a Harry Halloween
Harry Potter, Hermione, Ron, Dumbledore, Mc Gonagall, Dementors, Hufflepuff, Slytherin, Ravenclaw, Gryffindor, Death Eaters, Bellatrix Costumes for die hard Harry Potter Fans!